The sudden, substantial change in Wellington's house prices over the past nine months is possibly the biggest in the past 20 years, Registered Valuer Max Meyers says.
The effect is region wide and includes apartments and most types of houses.  The number of sales is up sharply and sales are happening particularly quickly.
The causes are thought to be; an acute shortage of properties for sale from late last year, the changes in the Reserve Banks LVR (Loan to Value Ratio) lending requirements which were lifted in October last year from areas outside of Auckland, and an increase in out of town buyers particularly Auckland investors.
However, Mr Meyers said, caution is needed not only from world events, particularly the fallout in financial markets from Brexit, but markets are cyclical and can be unduly influenced by speculative investors.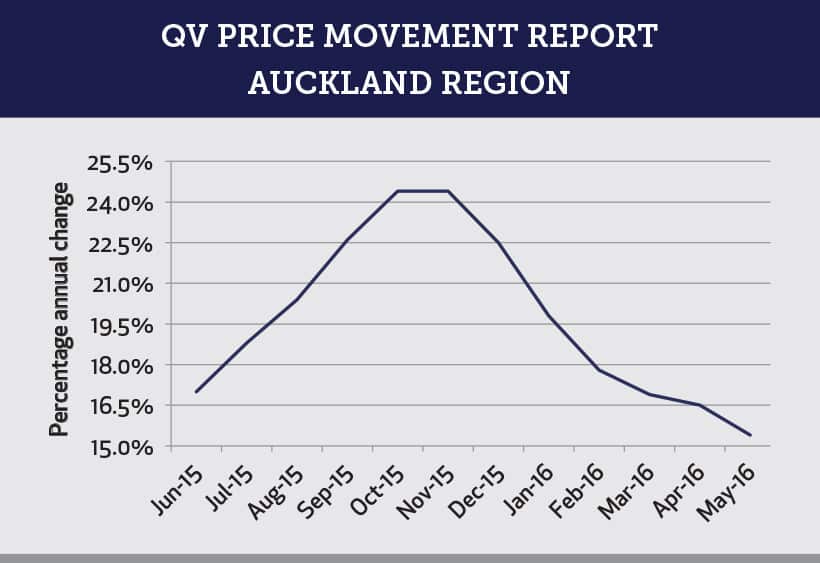 National
The data from Quotable Value (QV) show that values have increased 12.4% across the country in the year to May and the Auckland region continues to ease back at 15.4%.
"The trend for our largest and most dynamic property market is becoming clear. This may be the early signal that the Auckland market is changing.
"The declining growth trend does raise some interesting questions, not the least is: will this continue the slow trend down, and when will investors facing the prospect of a declining market start selling off to realise gains and avoid losses?"
"The issue is of wider importance than Auckland as a sharp decline will seriously affect the economy as a whole," Mr Meyers said.  Low interest rates have stimulated real estate markets globally because property offers a safe investment as well as a rental return and the prospect of capital gains.
He said the growing concern is that markets never increase indefinitely and rapid increases usually have a down side and a very significant risk to the financial system, which is why there is a growing caution with the Auckland market and speculation the Reserve Bank will take further measures to reduce investor/speculator demand in Auckland to constrain price increases.
"The sudden price shift in the Wellington market shows demand is being driven by investors and speculators and not so much from a shortage of houses.  It reflects the availability and mobility of money rather than a sudden influx of people into Wellington."  He said an influx of people would reflect in higher rentals and that was not yet evident.
Across the country most cities and regions are experiencing growth but closer to Auckland growth is greater with 26.2 per cent in Hamilton and 23.1 per cent in Tauranga.  Even the South Island is feeling the growth, with 10.3 per cent in Dunedin and 4.8 per cent in Invercargill.
"We expect the Auckland market to signal the change for the rest of New Zealand and that it will continue to ease this year and there are signs this may have started. The rate of increase is declining as noted above, and selling times are starting to increase.
"Other parts of the country will follow but lag behind as investors initially look outside Auckland to maintain profits, this is already reflected in the higher increases in the areas adjoining the Auckland region."
He said real estate prices tend to follow interest rates and these are not expected to increase for a few years despite historic low levels.  "World events could change this, especially if the financial markets perceive a risk. New Zealand carries a risk premium because of its isolation and this can be amplified in periods of uncertainty.
Investor and home buyer confidence can change quickly especially if there is a perception that their investment is not safe, and / or expected capital gains are coming to an end.  "As soon as investors start to feel their equity is at risk because the property market has peaked the logical move will be to sell to capture the gains made and to avoid losses."
The locations that have experienced long and substantial price increases are in a significant housing bubble that is in danger of a sharp decline because it is driven by buyer behaviour motivated not primarily by need, but by the very substantial profits being made from speculation.
Eventually the current conditions will end, because of a significant financial event such as the GFC or interest rate increases, a natural decline in the property cycle or by Reserve Bank controls. The issue is when and how hard the landing will be.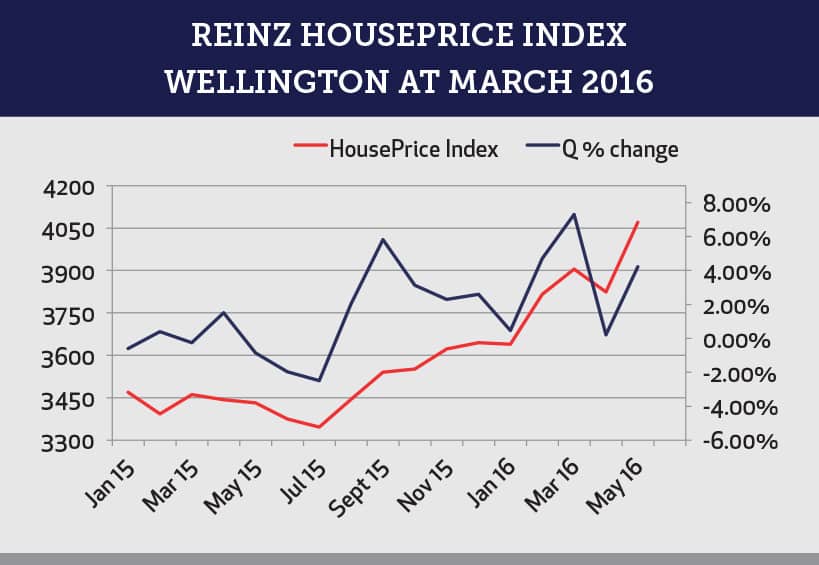 Wellington Regional Market
Wellington districts have benefitted from the change in the market, and some anecdotal stories indicate very aggressive buying on some areas.
The House Price Index from the Real Estate Institute (REINZ) shows the significance of the change, with large increases in price in September and October 2015 and again in January, building in March and May.
The change shown in QV's House Price Index show a 10.2% increase for the 12 months to May 2016 which is the highest increase in nine years since March 2007 at the height of the previous bull market, and shortly before its decline.
An example of the demand and price changes is a recent tender, reported in the Dominion Post, for an original Thorndon 2 flat property with a September 2015 RV of $670,000 had over 10 offers most in the high $900,000, and selling $350,000 over its RV at $1,023,000.
"We have noticed a significant lift in the number of sales and in the average sale price. Many apartments struggled to sell for this Sept 2015 RV, but in the space of a few months they are selling on average 10 per cent above now.
"The question is will the rate of increase persist, as it is not reasonable to expect the same rate of change."  To continue for a longer term perspective of the change in the market, QVS value increases for May are compared with May 2015 and January 2012 in the table below.
One of the striking features of the recent market surge is how the values have increased in different areas. The diagram left shows QV's average value and percentage increase.The correlation between higher values and bigger increases is clear. This suggests demand is higher for higher value properties and that demand is from investors and speculators rather than a need for housing.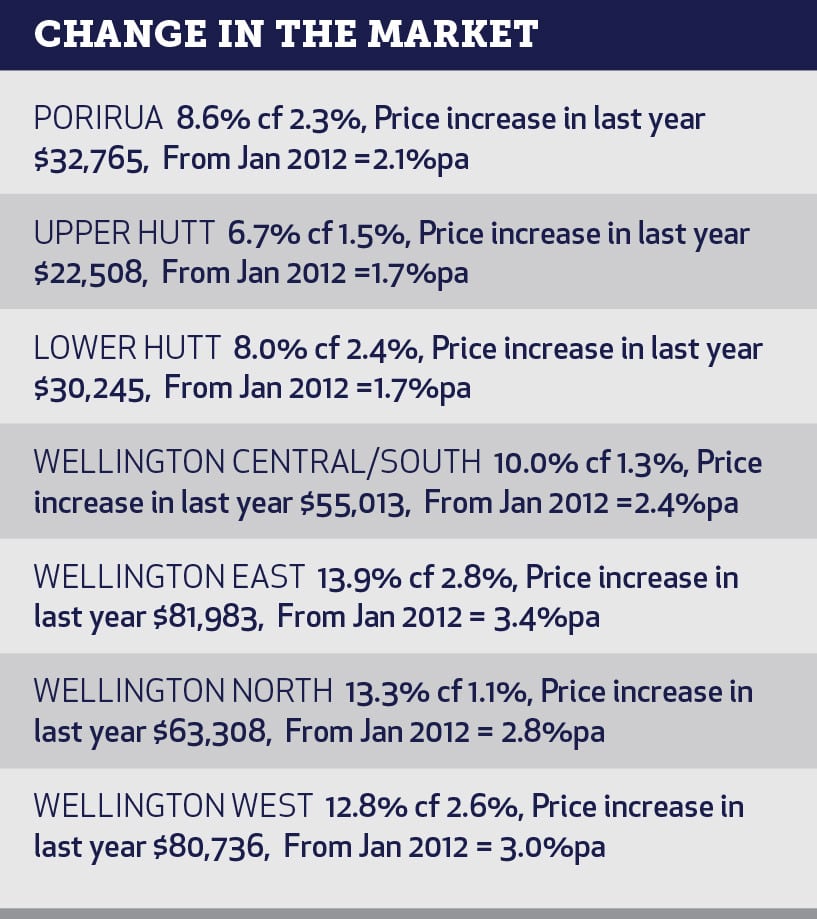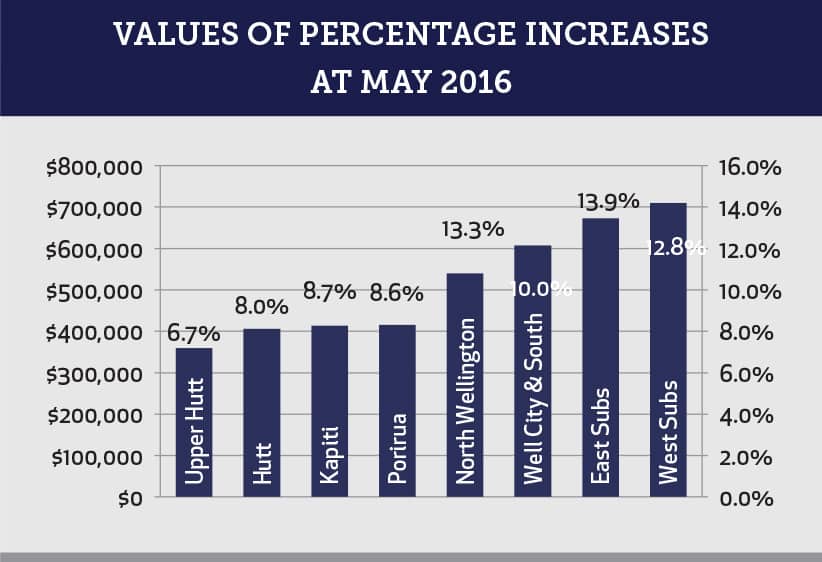 Quick Observations From the New Market
Buyers appear to be offering what they can afford, rather than considering market value.
Apartments in Wellington have been the poor cousin in the market with declining values since 2007 and harder to sell. Most are now selling well with less concern for defects.
The new market is less concerned about risks and the cost of ownership. Less account is being taken of defects and deferred maintenance.
Offers are becoming unconditional, as this is the only way to compete.
Auctioning is becoming more popular, but buyers want to act quickly so prefer negotiation or tender where they can get a quick answer and move onto the next prospect.
There are more absent buyers purchasing without seeing the property.
This is an opportune time to make a property change. Particularly if there is a life change (e.g.retirement) or you have a project in mind or a less saleable property. Good prices are being achieved for most properties and buyer demand means they are selling readily.
Need a Valuation? Please call us on 0800 773 636 or email us at prendos@prendos.co.nz.