By Max Meyers, Registered Valuer
"Boom" is the new headline on The Professionals sales signage and it aptly describes the dramatic 21% increase in values for the region that as taken Wellington by surprise.
The dramatic switch occurred in October last year when the Reserve Bank's Loan to Value Ratio (LVR) rules changed. The effect was almost overnight as can be seen in the comparison graph below with Auckland inflation rates decreasing and Wellington increasing from that point.
The scramble for Wellington properties has seen with big turnouts for open homes, large numbers of offers on properties, and the very aggressive buying.
There seems to be some easing of this trend in recent weeks but the metrics still point to a strong market with above average numbers of sales, faster than average selling times and low levels of property listing available for sale.
We expect this to continue for a short time but Wellington will inevitably follow Auckland trends within 6 months, as the cause of the change is the same but Wellington does not have a shortage of housing to the same extent, and because it has not experienced the long period of inflation, there is a lower risk of declining values.
The Auckland market has turned around, with fewer sales taking place, longer selling times and value increases trending down as shown in the graph. This is the trend for most 2016, indicating demand is falling which is not evident if we just look at prices. Barfoot and Thompson, (Auckland's largest Real Estate Company) have also reported the least number of sales for 6 years.
Also we note a recent ASB property buyer confidence survey that suggests a majority of buyers are now thinking it is a bad time to invest.
Add to this the recent increases to longer term mortgage interest rates, which will be an important influence as higher prices are supported by the low cost of borrowing.
This will be more noticeable when rates significantly increase. On a $400,000 mortgage, a 1% interest rate increase from 4.5% to 5.5%, on the same repayment amount means you can borrow $32,000 less.
The suddenness of the change in Wellington suggests it is an increase in investors and speculators rather than home owners looking for property. The rental market is a more reliable gauge of a shortage of houses and rentals are increasing only modestly so far.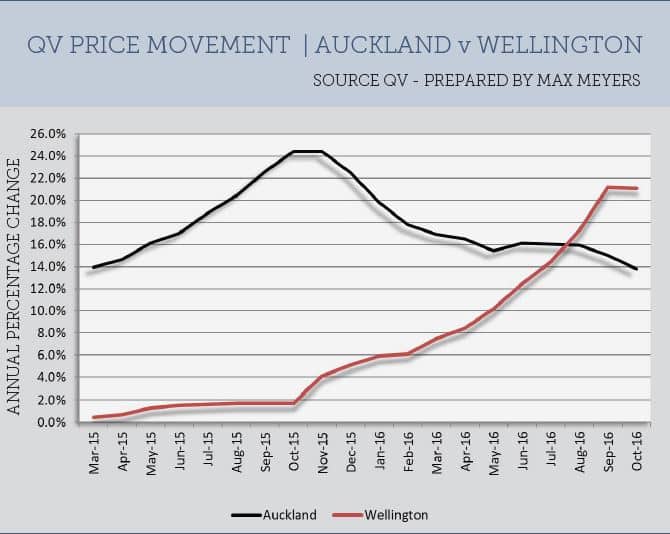 Without doubt more houses are needed for a growing population, but demand has been unduly influenced by investors and speculators who have amped up prices forcing out those with real housing needs.
Investment in property is essential to creating supply to meet the needs of a growing population, but speculative investment has a real risk when prices stop going up. At this point there is no further reason to hold property (no capital gain and very low rental returns), and the smart money will sell out to realise gains. This will be the correction phase, the first signs being less sales and slower selling times and reducing property inflation rates.
It will be some time before prices start to decline but by hold off to avoid making a loss, the reverse of the buying quickly before prices go up. For Wellington, the volume, time to sell, and price increases indicate there is still an upside, but the reverse is indicated for Auckland.
With a huge increase in investment home supply is increasing quickly (particularly in Auckland, but also in Wellington) and will continue to grow over the next few years. If the early indications outlined above are true, demand may already be easing and with supply increasing, we could be at the turning point for a typical boom/bust cycle
Big increases in property values have occurred throughout the Wellington region, but effects vary between locations and types of property. Notable variations are:
Lifestyle properties with an average increase closer to 5%.
Rental properties having very high increases of 30% to 70%.
Vacant section sales having lower than average increase at an average of 14%.
Low value increases for older apartments – 10% to 20%.
Pre 1940 dwellings had average increases over 30%.
Older ownership flats had slightly above average increases – 24% to 28%.
Low increases in: Eastbourne, Central Wellington, Pinehaven,Mana, Paekakarki, and Pukerua Bay.
High increases in: Alicetown/Moera, Mt Victoria, Porirua East/Ranui Heights, Taita, Waiwhetu/Fairfield/Waterloo.
The Auckland market has passed its peak in value increase in Oct 2015. The rate has been falling most of the year but the rate is still a healthy 13.8%. The number of sales peaked in March 2015 and numbers have fallen and are now consistently less that the same time in 2015. The time to sell is now at 33 days, consistently longer than in 2015, and trending up.
Wellington has had an average increase of 21% compared to 1.7% the same time last year. The metrics for Wellington suggest the market remains strong with an above average number of sales, low stock and listing numbers, and well below average selling times at 26 days.
Opportunities
High demand enables all types of property to sell and be recycled and this can be an ideal time to move on. Properties are now, on average, worth noticeably more than in the previous peak in 2007 and those that have put plans of moving or downsizing will now find they have considerably more equity than at this time last year.
The average Wellington home is now $65,000 to $140,000 more than it was last year. Waiting to get the most out of the market is a natural inclination but when the market turns properties are more difficult to sell. So if you have thought about a change, this could be an opportune time.
New building has never looked so good. It's the supply and availability of builders that is a constraint. Pricing is now more favourable compared to existing properties, and in many areas, older homes have gone up in price to a greater extent than new and near new homes.
If you enjoyed this article please follow us on LinkedIn or Facebook.  For assistance please email us on prendos@prendos.co.nz or call 0800 773 636.