Gordon Edginton looks at the current market in Auckland and the reason behind the shortage of homes.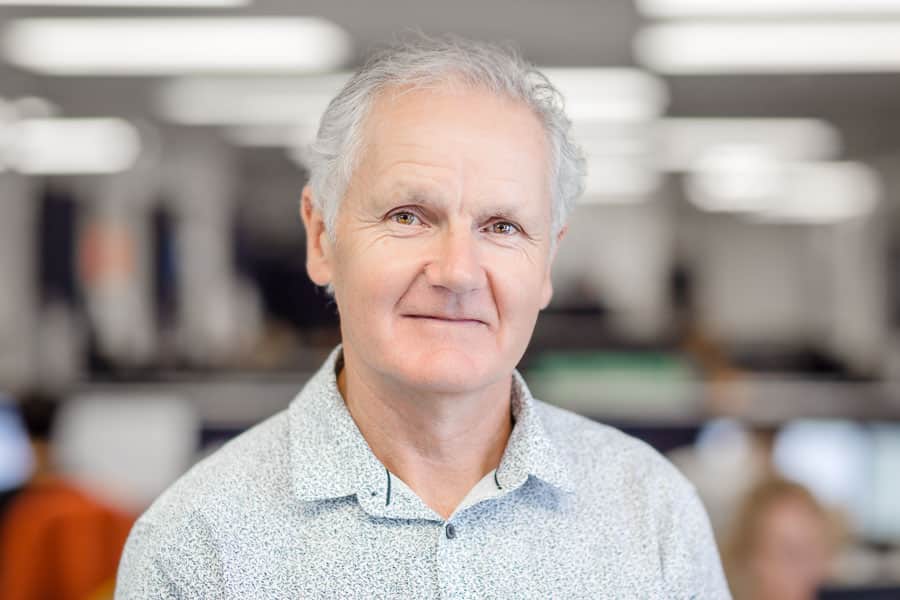 The low interest rate environment looks set to remain for a long time, providing borrowers with the confidence to lock in low mortgage rates and finance ever higher purchases of real estate. The current inflation rate of 0.4% is low and has remained below 1% for some time. In an attempt to stimulate this, the Reserve Bank is predicting there is no need for higher interest rates until late 2019.
The Reserve Bank has left the Official Cash Rate (OCR) at 2.25% on the latest review but has signalled further rate easing may be required to ensure inflation settles at a higher figure between the target band of 1% to 3%.
The Reserve Bank is caught in a difficult bind as persisting with low interest rates stimulates the housing market, but lack of supply and a long catch up phase in building over the next five or more years has meant runaway prices.
"Further lending restrictions and credit limits may be inevitable to try and stem this," Mr Edginton said. He said high Loan to Value Ratio (LVR) lending restrictions and government policy measures to slow investor demand introduced in late 2015 are now largely ineffective as the market has rocketed away.
Households are again borrowing heavily against their improved equity to re-invest in real estate. Areas outside of Auckland are now experiencing strong growth in real estate sales volumes and prices as buyers chase better returns.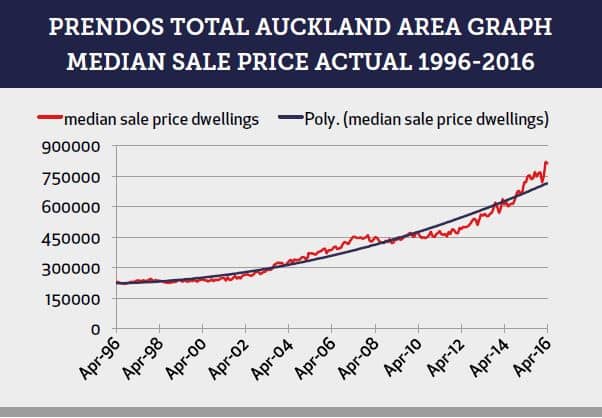 Prices Leap $100,000 a Year
In the last 10 years Auckland's median price has risen by 213 per cent, averaging over 20 per cent per year. The current peak price of $820,000 was hit in March this year on high sales volumes of 3,200 per month. This is up 14 per cent or $100,000 on the same month last year and a similar increase from March 2014. Prices have increased on average by $100,000 a year over the last three years.
"This cannot be sustainable and although price inflation will persist, it must fall to a lower level soon. The price implications of a bubble are clear. However, supply has not yet reached a level to sustain demand and population growth, so there is little risk of a serious downward correction any time soon."
How Long Will This Boom Last?
Price pressures have come from a combination of very low interest rates, strong net immigration, lack of supply of housing, artificial land constraints caused by Councils Metropolitan Urban Limits (MUL) and lack of infrastructure (water, sewage, public transport) in place to service new subdivisions, as well as from rising construction costs and shortages of labour in the construction industry.
"The trigger to stall momentum will be easing migration and rising interest rates. I expect the market will ease off in about two years time, thus 2018/2019 is picked as the tail for this cycle. "The Reserve Bank is likely to impose tougher controls to stem the market with higher investor deposit requirements and possibly income to debt restrictions."
"New Zealand has gone into recessionary periods every 10 years, the prior cycles being 2008 (Global Financial Crisis), 1998 (Asian Crisis), 1988 (Share Market Crash and Rogernomics Recession), 1978 (Oil Crisis). So odds on 2018 will be the start to the next trough in the market."
Home building in Auckland has been increasing in response to the strong demand. The number of consents issued is up 20 per cent over the past year. The population boom and low levels of building in past years has meant a shortfall of housing has been growing.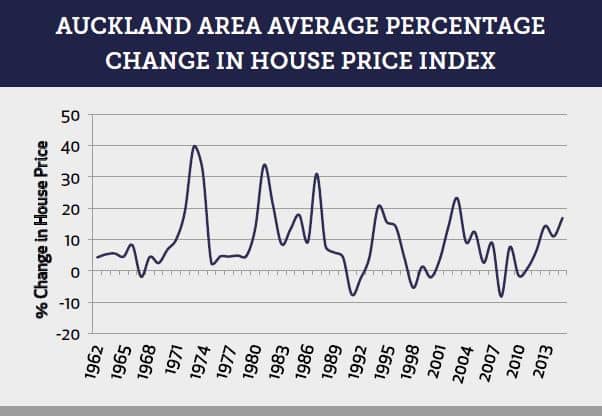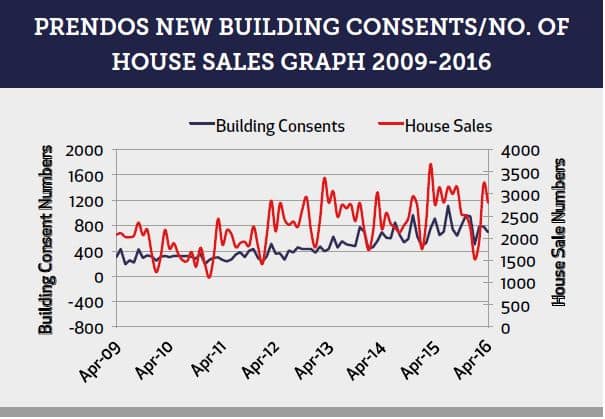 Effect of Migration on Housing
Auckland's position as New Zealand's number one city of choice has resulted in faster population growth than the rest of New Zealand. This puts the housing stock under increasing pressure.
On an annual basis, net migration has risen to 68,000 people helping to underpin the economy and boost the property market. Much of this growth has come from international students and fewer Kiwis leaving for Australia given the downturn in their mining sector and weaker employment market. Mr Edginton said he expects migration numbers to peak shortly, followed by a "softening", which will have a flow on effect of easing demand in the housing cycle.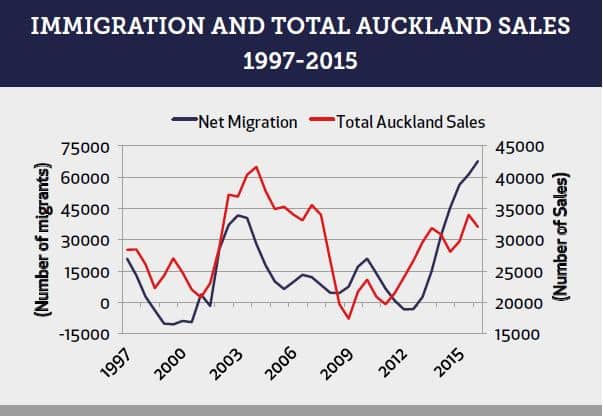 How Has Auckland Council Impacted the Housing Market?
The impact of the Auckland Council's urban limit boundaries has had a catastrophic effect on house and land prices. The Metropolitan Urban Limit is about to be replaced by the Rural Urban Boundary (RUB) under the Proposed Auckland Unitary Plan (PAUP).
The RUB will define the extent of urban development until 2041. The effect of these urban boundaries has been to stifle land availability and supply. The over all result has been soaring land prices.
The same impact has been seen in other cities around the world which have similar land constraints caused by Local Authority regulations and urban boundaries. London, Sydney, Vancouver, San Francisco also have highly unaffordable housing, a direct result of limiting urban sprawl. "An extremely high proportion of all price growth in Auckland has been due to rising land prices – not the price of the house itself," Mr Edginton said.
"This is due to lack of supply. A property's value (improved property) is made up of two parts – the land and the improvements. In our valuations from year to year the key ingredient that gets adjusted upwards on every review is the land." This can only be due to lack of supply.
There is no shortage of land itself with thousands of acres beyond the urban limits sitting idle. But the regulatory constraints imposed by artificial urban limit boundaries mean this land cannot be developed to provide for the much needed supply.
Auckland Council has used a cost benefit analysis to justify these urban limits, citing the increased infrastructure beyond a certain point out from the CBD, does not provide economic justification to allow urban sprawl. However, the Council have not included in their cost benefit analysis the cost of housing. The Council has not factored into their theory any shift in prices.
"Their modelling is fundamentally flawed and one of the core reasons for the housing problems of today." Mr Edginton said capacity constraints in providing infrastructure to these new subdivisions are another key failing.
"I have seen proposed new subdivisions in Whenuapai and Kumeu north of Auckland turned down or stalled due to lack of key services being available with time lines of two to five years cited as possible future dates for provision of these services."
Government Intervention
The Government has recently announced a new National Policy Statement on Urban Development, which has been designed to encourage councils to allow more housing developments where necessary and to measure the impact of their decisions on house prices. Mr Edginton said while the policy seems like a good one, it also "sounds like window dressing".
"The Government has finally woken up to the Auckland Council's urban planning debacle. Let's hope the Government's late call for a policy change has been listened to, as opening up more urban land and reducing rules could be the silver bullet Auckland needs."
Need a valuation?  Please call us on 0800 773 636 or email prendos@prendos.co.nz.