With the recent focus on deficiencies in reinforced concrete structures, we take a look at a few of the common defects found in concrete design and construction – and how to avoid them.
As a multi-disciplinary property and construction consultancy, Prendos has the advantage of housing many different specialists all under one roof, says Prendos Building Consultant, Sean Marshall.
"This has been particularly valuable when it comes to helping our clients identify and resolve deficiencies in concrete buildings. We essentially have a joint structural engineering and building surveying team who work together to look at design deficiencies or check the quality of the construction."
When carrying out Initial Seismic Assessments (ISAs), Prendos Structural Engineer Andrew Crowley says Prendos goes further than most – starting by checking the building has been constructed in accordance with the drawings lodged at council.
"We take specialised concrete scanners, such as Ferro Scanners or Ground Penetrating Radar (GPR), to the building to 'look inside' the concrete. We're primarily trying to identify steel reinforcement within it. The GPR tools we use can detect all sorts of things up to a depth of 200mm – ferrous and non-ferrous metals, as well as wood, plastic, pipes and cables. However, there are instances where the GPR is unable to determine the type of object detected."
Using scanners, design drawings and physical inspection techniques, Prendos picks up issues ranging from lack of concrete cover to no reinforcement at all.
"Concrete is not good in tension situations, so if there's no rebar it simply won't work in slabs or beams", says Andrew. "If it's the walls of the building that are lacking reinforcement, you may not notice until there's a quake."
A Prime Example of What Can Go Wrong

Prendos has recently been working on a building constructed using precast concrete panels. Midway through construction, design and build flaws were identified and Prendos was brought in to investigate.
"The building contained a multitude of failures," says Sean, "from gaps between the precast concrete panels, to visibly unaligned and damaged panels. The majority of faults were due to very poor quality control during construction. However our building surveyors worked closely with our structural engineers on the report, as some of the issues were more of a structural design nature."
The investigation revealed something called 'plastic shrinkage cracking', where concrete shrinkage had led to significant cracks.
"Because concrete is a 'wet' material, there is a great deal of water loss as it dries – leading to a decrease in volume, or shrinking," Andrew explains. "If concrete dries too quickly, or one part dries faster than another, it can cause cracking. Good concrete design will include reinforcement to prevent this cracking, but if there's not enough, or it's not spaced correctly, it won't work. You can have enough reinforcement for strength purposes, but still not enough to prevent shrinkage cracking."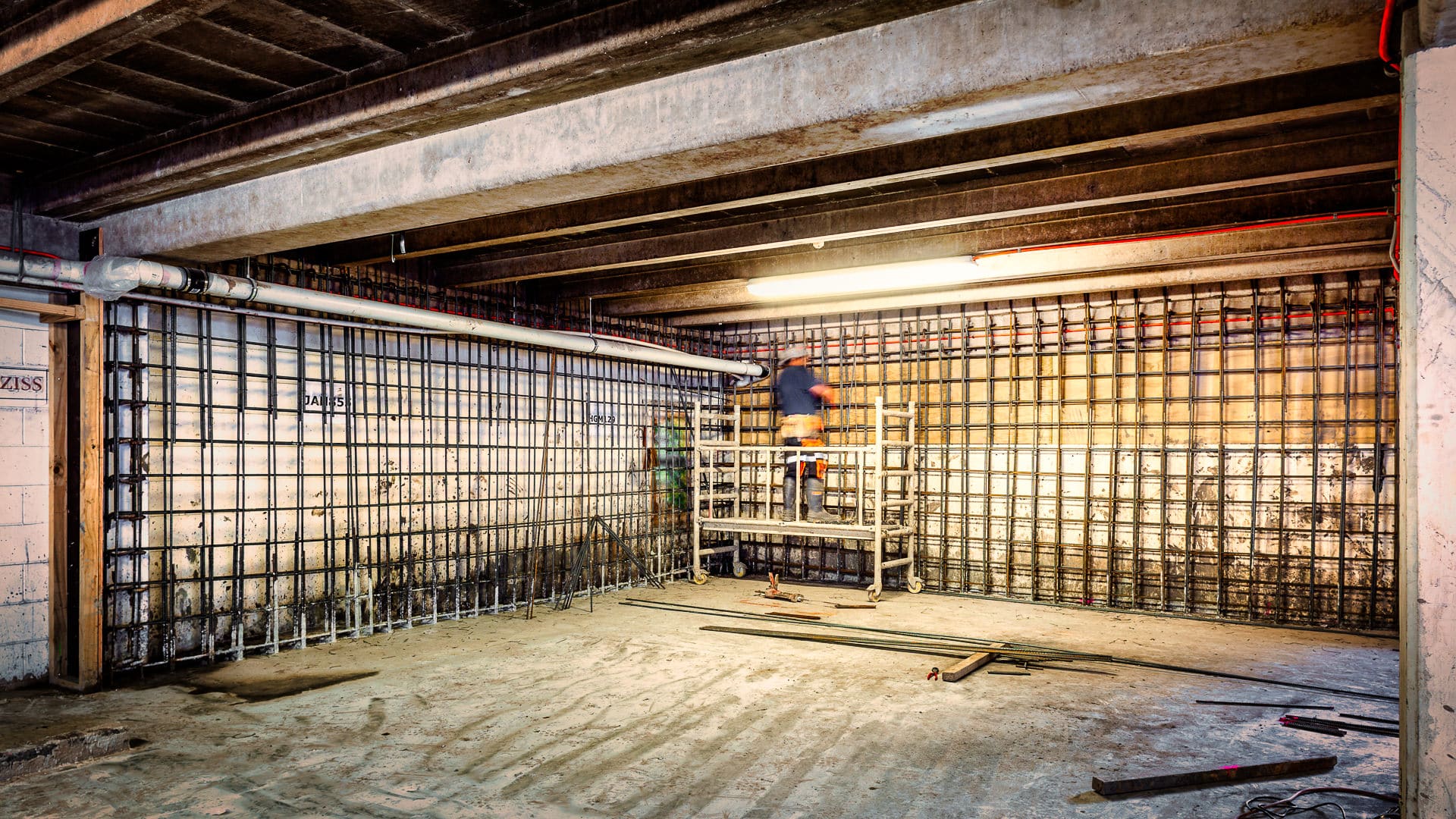 Another issue in the building was a lack of concrete cover – or the amount of concrete covering the rebars – something our scanners were able to show.
"Concrete is alkaline, which protects the steel reinforcement against corrosion. The amount of cover you need depends on the building's exposure to the elements – for example a marine environment needs much higher cover. Over time, the surface of the concrete will become more acidic, losing its protective power. This can take decades, depending on the building's location. A lot of Auckland is close to the sea, so any exposed concrete is likely to be exposed to salt spray, which means you need to be extra careful with your concrete cover depth."
Spacing around reinforcement bars was also a big issue in the building inspected, which came down to a combination of poor construction and poor design. Without sufficient spacing, the concrete can't flow around the reinforcement, so the bond between the concrete and steel is limited – as is the protective cover.
"Our investigations showed the contractors had laid the reinforcement directly onto the permanent formwork or onto expanded polystyrene insulation. The building also showed areas of dense grouping of steel reinforcement bars. When designing concrete structures you need to allow space around the reinforcement and, if you do 'bundle' your rebars, your design should specifically allow for this."
Waterproofing, or lack of it, can also play a big part in concrete issues. If too much water is allowed to penetrate a concrete slab, Andrew explains, it will lead to corrosion of the encased reinforcement and therefore cause structural issues.
"There have been a few instances where I've been called in as a structural engineer to look at a crack in a building, and I've found it has more to do with waterproofing than the structure itself. Especially near the sea, the marine aerosol can degrade the concrete and therefore the reinforcing steel. When steel corrodes it can expand many times its original width, and the expansive force is such that the surrounding concrete will be blown apart. Typically this presents as cracking, but in extreme cases your concrete will actually fall off and leave the reinforcement exposed."
How to Avoid Issues
Prendos has seen a lot of poor concrete design and construction techniques over the years. Sean says many of their clients end up coming to them because they've had a bad experience and don't want it to happen again.
"They've seen first hand what can go wrong, and the second time round they realise they need to pay a bit more at the front end to have it done right. If you're constructing a new building, our advice is to get a structural engineer involved in the design and include ongoing site observation and supervision as part of your build. The quality of your building will go up markedly if you engage a supervising engineer to visit the site regularly, oversee and sign things off.
Prendos is totally focused on quality and adding value. In almost 100% of our projects we're retained all the way through to project sign off. That's why clients come to us – to be assured of a quality build. We absolutely agree with Benjamin Franklin's quote, 'the bitterness of poor quality remains long after the sweetness of low price is forgotten'. In addition to the remediation cost, it's the heartache and stress that comes from being left with a poorly designed or constructed building. You can pay for the engineers now, or pay the lawyers later."
Article Headline:

How You Can Avoid Costly Concrete Reinforcement Issues
Article Description:

With the recent focus on deficiencies in reinforced concrete structures, we take a look at a few of the common defects found in concrete design and construction – and how to avoid them.
Image URL: https://prendos.co.nz/wp-content/uploads/2019/12/Concrete-article-web-res.jpg
Image Width: 1920
Image Height: 1080
Publisher Name: Prendos NZ Limited
Logo URL: https://prendos.co.nz/wp-content/uploads/2019/05/prendos_horizontal_rgb.jpg
Logo Width: 805
Logo Height: 152